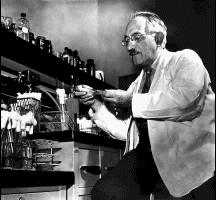 Selman Abraham Waksman
(1888-1973)
Microbiologist. He was awarded the 1952 Nobel Prize in physiology and medicine for his discover of the antibiotic streptomycin in 1943. Waksman helped found the Institute of Microbiology at Rutgers University in 1949 from royalties from the sale of streptomycin. Born in Russia. Came to the U.S. at the age of 22. Became a U.S. citizen in 1916 and received his Ph.D. degree in 1918 from the University of California. His books include "My Life with the Microbes.
Bruno Walter (1876-1962)
One of the great conductors of his time. He became especially known for his interpretations of Mozart. Born in Berlin, Germany. Nazi Germany's anti-Semitism forced Walter to resign as conductor of the Leipzig Gewandhaus Orchestra in 1933 and as conductor of the Vienna State Opera in 1938. He came to the U.S. in 1939 and was a conductor of the Metropolitan Opera. He became a citizen in 1946.
Kurt Weill (1900-1950)
Composer noted for his short, informal operas and and also for his musical comedies portraying contemporary life. Among his popular hits are "September Song" (from Knickerbocker Holiday) and "Mack the Knife" (from The Three-Penny Opera). His collaborations with playwright Bertold Brecht resulted into two satiric operettas, "The Threepenny Opera" and "The Rise and Fall of the City of Mohagonny." Born in Dessau, Germany.
Weill's works were banned in Nazi Germany, and in 1935 he settled in the United States. He turned out several successful Broadway shows, including including Knickerbocker Holiday (1938) and Lost in the Stars (1949) with Maxwell Anderson and One Touch of Venus (1943) with Ogden Nash. He also wrote instrumental works, including two symphonies. Weill's wife, the singer Lotte Lenya (1900-81), performed in many of his shows.

That notwithstanding, Dr. Ruth attained fame as a psycholsexual therapist who helped pioneer the field of media psychology on her radio program, Sexually Speaking.

Physicist who received the Nobel Prize in physics in 1963 for his contributions to nuclear and theoretical physics, especially his research in the structure of the atomic nucleus. Born in Budapest, Hungary. He came to the U.S. in 1930 and became a citizen in 1937. During World War II he was assigned to the plutonium project at the University of Chicago.

Naturalist who painted and wrote about birds. He is often called the "father of American ornithology." William filled nine volumes of bird descriptions in his "American Ornithology." Born in Paisley, Scotland. For several years he was weaver and wrote poetry. He traveled as a peddler. Then, in 1794, Wilson sailed to the U.S., where he taught rural schools in New Jersey and Pennsylvania. There he became interested in birdlife.

Statesman and jurist. He signed both the Declaration of Independence and the U.S. Constitution for Pennsylvania. Born in Scotland. Came to the American Colonies in 1765 to practice law. As one of the leaders of the Constitutional Convention of 1787, Wilson argued that supreme political power belongs to the people. He was an associate justice of the U.S. Supreme Court, 1789-98. The Pennsylvania constitution of 1790 was mainly written by Wilson.

Clergyman and political leader. He was a signer of the Declaration of Independence. Born in Scotland. From 1768 until his death, Witherspoon was president of the College of New Jersey (now Princeton University). He was a member of the Continental Congress. He also helped to organize a national Presbyterian Church in U.S.
"Oh the shark has pretty teeth, dear,
And he shows them pearly whites.
Just a jacknife
has met Macheath, dear,
And he keeps it out of sight.
From Kurt Weill's
"Mack the Knife"