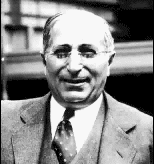 Louis B. Mayer

(1885-1957)
Motion picture executive who was one of the "moguls" who dictated the course of film industry in Hollywood during its golden era. Born in Minsky, Russia on July 4th. When he was two years old, his family moved to Canada and then to the United States. He bought a theater in Haverhill, Massachusetts to show movies. He moved to Hollywood in 1918 and later became one of the founders of MGM studio. Mayer was instrumental in establishing the star system, wherein a motion picture was built around its leader actor or actress.
S.S. McClure (1857-1949)
Publisher and editor of McClure's Magazine, which he founded in 1893. The magazine was known for its "muckraking" articles which exposed political and monopolistic corruption. Born in County Antrim, Ireland. Came to the U.S. as a child. with his parents. His publishing house, McClure, Phillips and Company, was later acquired by Doubleday, Page and Company.

Signer of the federal Constitution. Born in Ireland, emigrated to America in 1771. During the American Revolution he was a Continental Army surgeon and later a secretary to George Washington. As a secretary of war from 1796-1800, McHenry favored war with France. Fort McHenry, in Baltimore harbor, is named after him.

Born in Dublin, Ireland, and was brought to U.S. in 1840. He went to California to prospect for gold in 1851 and moved to Nevada in 1859. In 1873 MacKay and his partners discovered the "Big Bonanza" mine of the Comstock Lode. This mine yielded more than $100,000,000 in gold and silver.

A ship designer and builder. His Yankee clippers were among the fastest ships ever built. His "Flying Cloud" clipper set a record in 1851, making the New York-Cape Horn-San Francisco run in 89 days. The "Lightning" made the longest day's run in sailing history -- 436 nautical miles. Born in Nova Scotia, Canada. Opened his own shipyard in Boston in 1845.
William Worrall Mayo (1819-1911)


Emigrated from England in 1845. Graduated from the Medical School of the University of Missouri. He established practice in the frontier country of Minnesota, making his home in Rochester. There in 1889 the Sisters of St. Francis opened St. Mary's Hospital, with Dr. Mayo and his sons, William and Charles, as the medical and surgical staff. The father's practice was gradually taken over by his sons and became known as Mayo's Clinic.

One of the most influential journalists of his time. He had leading part in founding the Republican Party, and was a friend and supporter of Abraham Lincoln. Born in New Brunswick, Canada. He was editor of the Chicago Tribune from 1855 until his death.

A leading composer of modern opera. He was awarded the Pulitzer Prize for music in 1950 for "The Consul," and in 1955 for "The Saint of Bleecker Street." His opera, "Amahl and the Night Visitor," is presented annually at Christmas on television. Born in Cadeglian, Italy. Settled in the U.S. in 1933. Menotti founded the "Festival of Two Worlds" in Spoleto, Italy.

A sculptor known especially for his "Pieta" at the University of Notre Dame and the two bronze statues of Indians on horseback in Grant Park, Chicago. Born in Croatia. After World War I, he helped in the founding of Yugoslavia. When his country was under Communist rule after World War II, Mestrovic voluntarily exiled himself. He came to U.S. in 1947, becoming a citizen in 1954.
Adolph Meyer (1866-1950)
Adolf Meyer was one of the earliest and most influential American psychiatrists. Born in Niederweningen, Switzerland, Meyer emigrated to the United States in 1892 and held the chair of psychiatry at Johns Hopkins University from 1910 to 1941.
Meyer rejected simple biological explanations of mental illness. He argued, for example, that schizophrenia was a personality disorder. His psychobiological studies showed that thoughts and feelings affect a person's physiological state; he became the first American psychiatrist to compile case histories of his patients.
Meyer can be credited with giving psychiatry its pluralistic, pragmatic orientation; he also did significant medical research as a neurologist.

The first U.S. scientist to receive a Nobel Prize. He was awarded the 1907 prize in physics for measurements of the speed of light and for inventing optical instruments. An experiment made by Michelson and Edward Morley in 1887 profoundly affected physics. They attempted to determine the velocity of the earth as it passed through the ether (a hypothetical substance which was believed to pervade all space not occupied by matter). No velocity could be determined, and most physicists abandoned the ether theory. The Michelson-Worley experiment was finally explained in 1905 by Einstein's special theory of relativity.
Born in Strelno, Germany. Brought to the U.S. at the age of two. He was professor of physics at what is now Case Western Reserve University, and also at the University of Chicago.
Ludwig Mies van der Rohe (1886-1969)
Architect who was one of the leaders of the International style. He was known for his elegant but austere steel-and-glass buildings. Classic simplicity mark such works as Crown Hall at Illinois Institute of Technology, the Dirksen Building, part of the Federal Center in Chicago, and the National Gallery in Berlin. Born in Aachen, Germany. He was director of the Bauhaus school before settling in the U.S. in 1937. Became an American citizen in 1944. Buildings such as 860 Lake Shore Drive in Chicago helped establish the steel skeleton glass-wall structure as a major building type.

Conductor and pianist. Born in Greece. He was musical director of the New York Philharmonic from 1950-1958. In 1954 he began conducting the Metropolitan Opera. Came to U.S. in 1936, became citizen in 1946.

Actress known for playing tragic Shakespearean roles, including Lady McBeth, Ophelia, and Juliet. She appeared as Nora in Ibsen's "A Doll's House," marking the introduction of the Norwegian dramatist in the U.S. She also starred in Dumas' Camille. Her real name was Helena Opid. Born in Cracow, Poland. She enjoyed popularity in the U.S. for three decades.
Ferenc Molnar (1878-1952)
Playwright who wrote sophisticated comedies. "Liliom," was probably his most popular of his 40 works. The musical version of the play was called "Carousel." Born in Budapest, Hungary. Molnar came to the U.S. in 1940 to escape the Nazis.

Practiced law in New York City and made a fortune in real estate. Born in Mannheim, Germany, and was brought to the U.S. at the age of nine. He was embassador to Turkey, 1913-16. After World War I, he was active in raising money for Near East relief. In 1923, Morganthau became chairman of the Greek Refugee Settlement commission created by the League of Nations. In 1933, he was a technical expert at the Monetary and Economic Conference in London.

Painter known for his fine draftsmanship, warmth of color, and delicacy of conception. Among his best paintings are "A Lady in Black" and "Idle Hours." He also painted many murals, including "Development of the Law," in the Appellate Court, New York City. Born in Alexandria, Egypt, of English parents. Brought to the U.S. in 1859.


Louis B. Mayer ruled his MGM studio like a patriarch in order to make "decent and wholesome pictures for Americans."