Pirate, privateer, smuggler, and patriot. Born in France. Came to New Orleans in 1809, where he and his brother established a blacksmith shop. The store was actually receiving goods from Caribbean smugglers. In 1810, Laffite moved to Grand Terre Island in Baratavia Bay, about 45 miles south of New Orleans. A handsome and well-educated man, Laffite became the leader of smugglers and privateers. His vessels looted Spanish commerce on the Gulf of Mexico.
During the War of 1812, the British offered Laffite prize money and an officer's commission for aid in their planned attack on New Orleans. Laffite pried information from the British and then informed Louisiana's governor of the danger. Laffite offered to defend the city if the United States would pardon him and his freebooters. Laffite and his men fought valiantly for Gen. Andrew Jackson during the battle of New Orleans. President James Madison pardoned Laffite.
In 1817, Laffite, with 1,000 followers, built privateer headquarters on Galveston Island. Some of his officers, against orders, looted U.S. ships. In 1821, a Navy brig arrived to drive away Laffite, who sailed away to the Spanish Main and was never heard of again.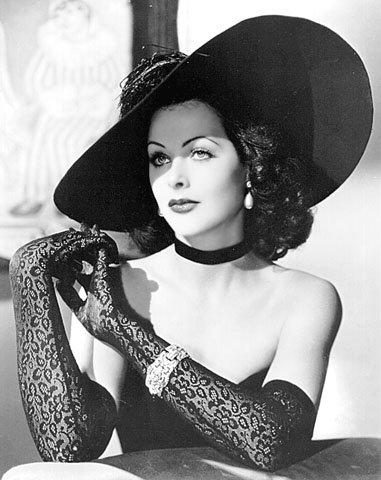 Hedy Lamarr
Raven-haired screen siren known for her exceptional beauty. Hollywood columnist Hedda Hopper referred to Lamarr's beauty as "orchidaceous." In her heyday, which ranged from the late 1930s to the early 1950s, Lamarr starred in 25 films, including Algiers with Charles Boyer, Comrade X and Boom Town with Clark Gable, Tortilla Flats with Spencer Tracy, and her greatest commercial success, the first Technicolor film Samson and Delilah with Victor Mature.
Born Hedwig Kiesler, the daughter of a Viennese banker, Hedy sprang into international consciousness at 17 when she performed some nude scenes in the 1933 Czechoslovakian film Ecstacy. To Lamarr, the fim was "a harmless little sex romp about a sweet young thing who marries an older man who is unable to consummate the marriage on the wedding night."
When Hollywood movie mogul Louis B. Mayer saw her, he signed her to a contract and changed her name. After making Algiers, Hedy Lamarr established herself as the No. 1 desert-island choice of the average American male.
Lamarr obtained her citizenship in 1953. She was fiercely pro-American during World War II, selling war bonds, washing dishes and dancing with men in uniform at the Holywood USO canteen.
"My face has been my misfortune," she wrote in her 1966 autobiography, Ecstacy and Me.

Stan Laurel (1890-1965)
Comedic actor who, along with his partner, was a master of slapstick buffoonery as a member of the Laurel & Hardy duo. Stan Laurel was born Arthur Stanley Jefferson in Lancashire, England. He and Oliver Hardy were one of Hollywood's greatest comedy teams in the 1920s and '30s with the skinny, sad-eyed Laurel playing the sensitive underdog to the obese, peevish Hardy. Laurel, the more creative of the two, began his career as a music hall comedian before settling in America in 1911 and teaming in 1927 with Hardy, a former singer and film heavy. On screen the pair portrayed clumsy, genteel misfits who turned minor problems into major disasters. Their mayhem can be seen in such short films as Putting Pants on Philip (1927), From Soup to Nuts (1928), Two Tars (1928), and Big Business (1929), as well as in the features Pack Up Your Troubles (1932), Sons of the Desert (1934), Babes in Toyland (1934), and Way Out West (1937). Although they made a successful transition from silent to sound films, their popularity waned after their departure (1940) from the Hal Roach studio.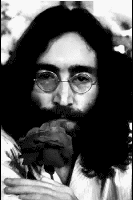 John Lennon

(1940-1980)
Rock musician and composer. Founding member of the British rock group, The Beatles. He co-wrote most of the Beatles songs with Paul McCartney. Songs written primarily by Lennon include "All You Need is Love," "Help," "Day in the Life." The Beatles disbanded in 1970 shortly after Lennon married Yoko Ono. Lennon was one of popular music's leading social critics with such songs as "Give Peace a Chance" and "Imagine."
Born in Liverpool, England. Moved to U.S. in 1971. In 1980, after releasing his first album in five years, "Double Fantasy," Lennon was shot to death outside his New York City apartment house by a demented 25-year-old man.

Historical painter best known for "Washington Crossing the Delaware," which was widely reproduced. Born in Wurttemberg, Germany. Casme to the U.S. as a child. IN 1860 he was commissioned to paint "Westward the course of Empire Takes Its Way," a mural for the stairway in the Capitol.
Jacques Loeb (1859-1924)
Experimental biologist and physiologist. In 1899, Loeb succeeded in fertilizing eggs of a sea urchin artificially, using chemicals instead of male sperm. Born in Germany. After coming to the U.S. in 1891, he taught at the universities of Chicago and California. In 1910, he joined the Rockefeller Institute of Medical Research.
Bela Lugosi (1882-1956)
Born Bela Blasko in Hungary. A respected Hungarian stage actor, Lugosi made a hit in Hollywood as the Transylvanian vampire Count Dracula in the film "Dracula" (1931) after creating the role on Broadway (1927). Because of his imperfect command of English, Lugosi failed to utilize his full range and became typecast in horror films. He was at his best in "White Zombie" (1932), "The Black Cat" (1934), "Son of Frankenstein" (1939), and "Abbott and Costello Meet Frankenstein" (1948).
Little known facts about Lugosi:
He was born not far from the Carpathian Mountains, home of the historical figure who inspired the Count Dracula myths.
For his work in the movie "Dracula," Lugosi was paid a total of $3,500.
Ninety-seven percent of Lugosi's fan mail was from women.
Lugosi was buried wearing his Count Dracula cape.
"Listen to the wolves howling like the children
of the night."
Bela Lugosi



"Here's another nice mess you've gotten me into."
Oliver to Stanley
"Imagine there's no heaven.
It's easy if you try.
No hell below us.
Above us only sky. Imagine all the people living for today.

"Imagine there's no country.
It isn't hard to do.
Nothing to kill or die for,
and no religion too.
Imagine all the people
living life in peace.
"Imagine no possessions.
I wonder if you can.
No need for greed or hunger,
A brotherhood of man.
Imagine all the people sharing all the world.
"You may say I'm a dreamer,
but I'm not the only one.
I hope some day you'll join us,
and the world will live as one."
John Lennon