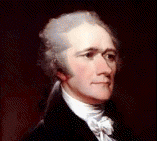 Alexander Hamilton

(1755-1804)
A leader in the formation of the U.S. government. As the first Secretary of the Treasury, he placed the nation on a sound fiscal footing. He introduced the doctrine of implied powers of the Constitution -- the doctrine that Congress has not only express powers specifically mentioned in the Constitution but also implied powers. Hamilton wrote more than half of the Federalist Papers, along with James Madison and John Jay. The Federalist Papers explained the federal, centralized form of government that the ratifiers of the Constitution would adopt.
Born in Nevis, West Indies, the illegitimate son of a Scottish peddler. Went to New York City at the age of 17. When the Revolutionary War broke out, Hamilton eventually became a member of George Washington's staff.. After Washington became president, he named Hamilton Secretary of the Treasury, at which time Hamilton founded the Bank of the United States. Hamilton had a great deal of influence with Washington and persuaded him to keep the U.S. neutral when the French Revolution brought war between France and England.
In his later years, Hamilton became the political enemy of Aaron Burr, who was vice president under Thomas Jefferson. Hamilton and Burr met in a duel with pistol on July 11, 1804 at Weehawken, New Jersey. Hamilton was fatally wounded, and died the next day.

Founder of a family which achieved fame in the theater. Hammerstein was theater manager of the Manhattan Opera House, where he introduced the works of Debussy, Strauss and others in the United States. Born in Germany, emigrated to U.S. in 1863. While working in a cigar factory, he invented a machine for spreading and shaping the tobacco leaves by air suction. From this and later inventions, he made a large fortune. His grandson, Oscar Hammerstein II, would become a well-known lyricist for Broadway musicals.

Educator, author, politician. In "Language in Thought and Action," he described and popularized general semantics, a linguistic perspective formulated by Alfred Korzybski. Hayakawa founded and became editor of "ETC: A Review of General Semantics." Born in Vancouver, Canada, of Japanese lineage. In 1969, he became president of San Francisco College.

Brilliant violinist known for his superb technique and expressive interpretations. Born in Vilna, Russia. A child prodigy, he gave his first public performance at the age of five. After studying with Leopold Auer at the St. Petersburg Conservatory, Heifetz began touring Europe. He came to the U.S. in 1917, became a citizen in 1925.

Geologist and explorer. He was with Robert Peary on an Arctic expedition in 1891-92. In 1902 he examined at close range the erupting volcano Mount Pelee on the island of Martinique. Born in Hungary, taken to the U.S. as a child. He was professor of invertebrate paleontology at the Academy of Natural Sciences in Philadelphia.

Ice skater who was Olympic champion for 1928, 1932, and 1936. Toured the United States regularly as a star performer of her own show, "Hollywood Ice Revue." She also appeared in motion pictures. Born in Oslo, Norway. Became a U.S. citizen in 1941.

Composer of operettas such as "Babes in Toyland," "The Red Mill," and "Naughty Marietta." One of his most famous songs was "Gypsy Love Song." Born in Dublin, Ireland. Came to the U.S. in 1886. In 1914 he helped found the American Society of Composers, Authors, and Publishers (ASCAP).

Engineer who invented the first modern submarine, called "Holland." This vessel became the U.S. Navy's first submarine in 1900. Soon after, Great Britain, Russia, and Japan built submarines modeled on Holland's design.
Born in Ireland. After coming to U.S. in 1873, Holland received financial support for his submarine plans from the Fenian Society, a group of Irish-Americans who, like Holland, hoped to end England's naval superiority. The "Holland" was the first submarine that could travel underwater for long distances, thus establishing it as a naval weapon. Holland also invented a respirator that enabled a person trapped in a damaged submarine to escape.

Bob Hope

(1903- )
Comedian known for his rapid-fire delivery of jokes and a brash, self-deprecating wit. Born Leslie Townes Hope in England; raised in Cleveland, Ohio. He began his career as a performer in vaudeville and as a Broadway song-and-dance man. He made several films with Bing Crosby, including "Road to Singapore," and "Road of Hong Kong." In 1962, Congress awarded Hope a gold medal for entertaining overseas troops during and after World War II.

Psychoanalyst who disagreed with Sigmund Freud's teachings. She believed that anxiety and neurosis are caused by environmental and cultural factors in conflict with the individual's drive toward self-realization. She was right. He maiden name was Karen Danielsen, born in Germany. She was a founder and the dean of the American Institute for Psychoanalysis.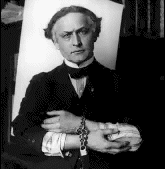 Harry Houdini

(1874-1926)
Perhaps the greatest modern magician. He specialized in escapes from handcuffs, leg manacles, strait jackets, locked trunks, and safes. Some of his escapes were made under water and others while dangling from skyscrapers.
His given name was Enhrich Weiss. Born in Budapest, Hungary. As a child he was brought to Appleton, Wisconsin. He ran away from home at the age of 12. He became a professional magician in 1891 and, later, a star of vaudeville. He also toured in Europe, became an aviator and won a trophy for making the first flight (1910) in Australia, appeared in several movies (from 1918) and established a film company, and eventually worked up a full evening's stage show of his own.
It was as an escape artist and "handcuff king" that Houdini was most celebrated. He accepted numerous challenges in the United States and abroad from those who believed they could securely bind, handcuff, chain, or imprison him. One of his most sensational escape acts was his "Chinese Water Torture Cell," a large water-filled tank in which he was immersed head downward after his feet were secured in stocks. This and other acts of his, such as "Walking Through a Brick Wall" and "The Vanishing Elephant," are still performed or attempted by professional magicians
Houdini spent his later years exposing fraudulent spiritual mediums. He promised his mother if there was a way to contact her from the afterlife, he would do it. His wife eventually declared his quest a failure.

When Alexander Hamilton was Secretary of the Treasury he almost faced impeachment when it was discovered that he was making payments to a man outside of government. Hamilton admitted the payments, but added they did not constitute improper speculation. He was merely paying money to the husband of a woman with whom he had an affair. Hamilton's confession of adultery ended all talk of impeachment.