Kahlil Gibran (1883-1931)
Poet who wrote "The Prophet," which deals in mystical terms and ornamental language with man's redemption through love and beauty. Born in Lebanon, of Syrian stock. First came to the United States when he was 11. His first poems were written in Arabic, but he later wrote in English.

Motion picture producer. Born in Poland. Came to the U.S. in 1896 and took the name Samuel Goldfish.. After working as a glove salesman, he went into partnership with his brother-in-law Jesse Lasky and with Cecil B. DeMille to form the Jesse Lasky Company, which produced the first Hollywood feature film, "The Squaw Man," in 1913. Began producing films in 1913. "The Best Years of Our Lives," a Goldwyn production, won the Academy Award for best picture in 1946. A founder of Metro-Goldwyn-Mayer (MGM).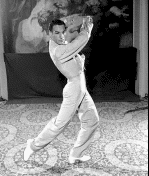 Jose Greco

(1918- )
Dancer and choreographer. Born in Italy, lived in Spain before coming to U.S. in 1928. He was the director and principal dancer of a Spanish ballet company that toured Europe, South America, and the U.S. Greco was one of the world's foremost exponents of Spanish dancing.
Canadian born hockey player who first achieved fame as a scorer for the Oilers of Edmonton. But it was Gretzky's trade to the Los Angeles Kings in 1988 that propelled him to American stardom. All told, he won the National Hockey Association's scoring championship ten times, the Most Valuable Player award nine times, and four Stanley Cups.


Chairman of Intel Corporation. His leadership propelled Intel to become the world's largest microchip maker. Born in Budapest, Hungary. He graduated from the City College of New York in 1960 with a Bachelor of Chemical Engineering degree and received his Ph.D. from the University of California, Berkeley in 1963.


Founder of a family of industrialists and philanthropists. Born in Switzerland, came to U.S. in 1847. He built up a firm in Philadelphia that imported Swiss embroideries. In 1887 he bought copper mines in Colorado and turned to smelting. In 1901 he and his sons won control of the American Smelting & Refining Company. Father of Daniel, Simon, and Solomon Guggenheim. Solomon established the Guggenheim Art Museum in New York City. Simon was a U.S. senator from Colorado. Daniel established the Daniel and Florence Guggenheim Foundation to promote "the well-being of mankind."

Geographer and geologist. His textbooks helped popularize geography and geology in the U.S. He investigated glaciers. He created plans leading to the establishment of the U.S. Weather Bureau. Born in Switzerland, studied at the University of Berlin. Flat-topped underwater mountains rising from the ocean floor are called "guyots" in his honor. Three American mountains bear his name -- one in California, one in New Hampshire, and one on the North Carolina-Tennessee border.
"Yusif El Fakhri was thirty years of age when he withdrew himself from society and departed to live in an isolated hermitage in the vicinity of Kedeesha Valley in North Lebanon. The people of the nearby villages heard various tales concerning Yusif ... and many were sure that he was a mystic who was contented with the spiritual world, although most people insisted that he was a madman."
Kahil Gibran



Sam Goldwyn, the movie producer, was known
for his malapropisms,
such as "include me out." Upon hearing of the first atomic bomb explosion, Goldwyn commented,
"That thing's dynamite."